Announcements
21st Birthday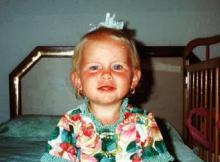 Cally Bellinger
Published in the Your Local Guardian on 9 February 12
Happy 21st Birthday CALLY BELLINGER 13.2.2012 Lots of love Mum, Dad, Lucy, Rio and family XXX
This notice has 2615 views, 5 gifts and no messages.
Messages
There are no messages for this notice.
Leave a message
Log in with
Gifts
Ashleighhhhh

Happy Birthday! Love Tracy & Mick

STEVE WHU HENRY. X

sue

irons xxx
Offer a virtual gift
Fields marked with * are mandatory.
Remember you are personally responsible for what you post on this site and must abide by our site terms. Do not post anything that is false, abusive or malicious. If you wish to complain about a particular message, please use the 'report this post' link.