Contact us: Got a photo? Text SLPICS to 80360, click to upload your story or call 020 8722 6392
Streatham marathon man gears up for epic race
2:30pm Thursday 12th April 2012 in News By Rachel Blundy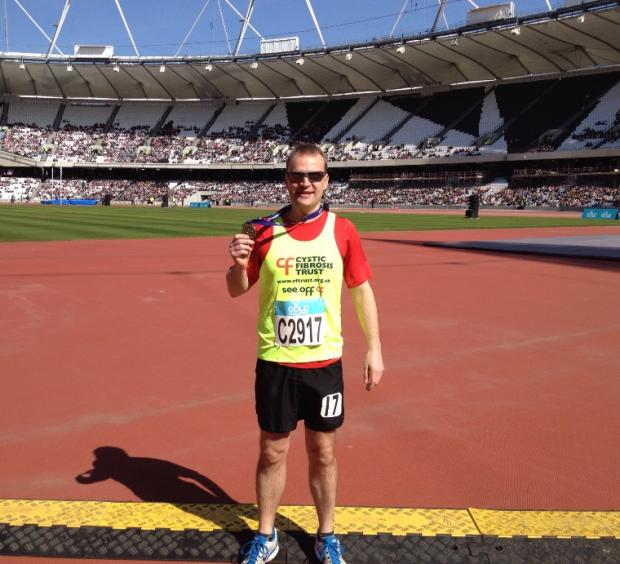 Jon Salmon at an event in the Olympic Stadium.
A serial marathon runner is preparing to clock up 100 miles in one day to raise money for research into the genetic disorder which killed his brother.
Jon Salmon, 39, a project manager from Valley Road, Streatham, will attempt the monumental challenge on June 22 as part of his fundraising efforts for the Cystic Fibrosis Trust (CFT).
Mr Salmon's brother, Richard, died from the disorder in 1998 aged just 23. He has since raised almost £30,000 for the CFT, which provides support, advice and clinical care for 9000 sufferers in the UK.
He said: "[Richard] was a very brave guy. He had to have a lung transplant and a liver transplant in his lifetime. He was inspirational. I met a lot of doctors and nurses while he was in hospital and I wanted to give something back.
"[After Richard died], I decided to start a bit of running. I did a half marathon and it nearly killed me.
"Since then I've done the London Marathon three times, but you realise people do not want to give money for the same thing over and over again.
"So I thought I would try 100 miles in one go. I am starting to feel quite nervous as the time approaches."
Mr Salmon, a father-of-two, is hoping to complete a 50 mile circuit in Cardiff as a 'warm up' before running the ULTRArace100 - a 100 mile race through the Cotswolds.
He said he would continue to "pester" people for sponsorship until he reaches his £10,000 fundraising target.
"It makes you realise if you grit your teeth, you can achieve it," he said.
To sponsor Jon visit www.justgiving.com/jonsalmon100.
Comments are closed on this article.