Contact us: Got a photo? Text SLPICS to 80360, click to upload your story or call 020 8722 6392
Time to believe in yourself, says the AFC Wimbledon supremo
10:00am Friday 16th August 2013 in Sport By Tim Ashton
Team spirit: The Dons have the collective spirit, but do they have the collective belief? Picture: David Purday
AFC Wimbledon boss Neal Ardley has a message for his team – "It is time to believe in yourselves."
The League Two season is only two games old and the Dons are unbeaten following an opening day point at Torquay, and a 1-0 win over Wycombe Wanderers last weekend.
The Dons go to south-west England again this weekend when they take on Exeter City at St James Park.
Ardley is hoping another three points will be another step towards a self-fulfilling age of confidence.
"I look at the team and I know it is a very good team, they just need the self belief that comes from positive results," Ardley said.
"Sometimes the result is better than the performance, but results breed confidence and the performances come off that.
"The players need more belief and that will come as the results come."
Ardley will hoping the belief comes sooner rather than later as he has highlighted an area of play that needs improvement, but relies on self-confidence.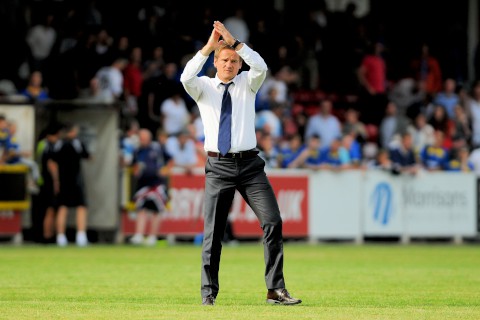 Time to believe: Neal Ardley has faith in his players, they just need to have faith in themselves Picture: David Purday
Having worked on bringing the ball out from the back in pre-season training, Ardley is only seeing it in the real action in glimpses.
He said: "Not only do I want the lads to bring the ball out from the back more, I also want us to start to dictate games.
"When we lose possession, I want us to up the pace to win it back and then make it hard for the opposition.
"I don't want a tennis match out there, I want us to push up the pitch and really pressure teams.
"We did that for 35 minutes on Saturday, but did not really do it against Millwall last week."
Exeter City share the same early record as the Dons with four points from two games, and they share a similar change in personnel over the summer.
Ardley said: "Paul [Tisdale] lost a lot of players, and they reduced their budget, but he is a very tactically aware manager who always keeps you guessing.
"But are we at the stage where we can just focus on ourselves and what we do well, I think so. We are good enough to do that and not worry about those things we cannot control."
Ardley's only absentee this weekend is Will Antwi, who continues his recovery from a hernia operation.
Still recovering: Will Antwi continues his recuperation from a hernia operation and will miss the trip to Exeter City this weekend SP70799
Comments are closed on this article.