Gone: Crystal Palace favourite Jonny Parr has been released by boss Tony Pulis
It was a sad day last week as Palace announced that 12 players had been released by the club, and among them was former player of the year, Norweigan left-back Jonny Parr.
It is perhaps not so much of a secret that I rated Parr highly, but evidently Tony Pulis felt that he was not of the required standard to make his mark in the Premier League.
Nonetheless, Parr will surely be remembered by a number of Palace fans for his determined attitude and excellent rapport with the supporters.
Two moments which stand out were his acknowledgement of supporters chanting his name at Millwall a couple of seasons ago, and a thumbs up for the continued support for him as he lay injured in front of the away support at Upton Park.
On one of Palace's greatest days - in the play-off final last year - Parr may not have partaken in activities on the field, but come the final whistle he was snapped running to celebrate with the rest of the players; and the picture has gone down in Palace folklore after being the subject of a photoshop thread on the supporters' forum cpfc.org.
The most recent addition, however, was of Parr being cut out of a jigsaw puzzle to mark his exit from Selhurst Park.
With Dean Moxey also being released, the Eagles will no doubt be looking for a new left-back to fill the void, and Ipswich's Aaron Cresswell is the man in demand with supporters, although the former Tranmere man is unlikely to fit into Palace's defence first style.
Also released were youngsters Tom King and Quade Taylor, both of whom had joined the club during its tenure in the Championship.
King was a £60,000 transfer from Portsmouth and a highly regarded England youth international goalkeeper when he made the move to south London, but his progress was halted by injury and he struggled for form in the U18 side and ultimately failed to live up to his early potential.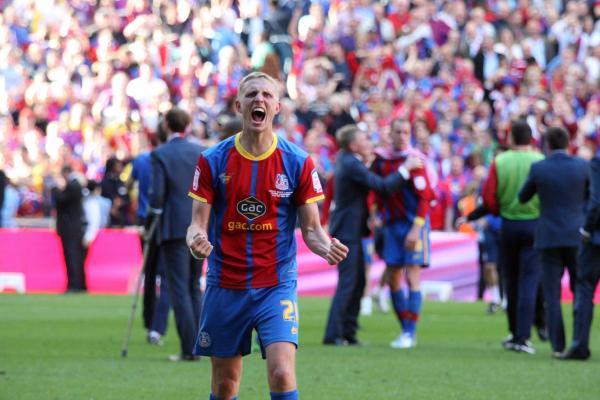 The way we were: Dean Moxey celebrates promotion to the Premier League
However, the competition he provided for Dave Gregory assisted in the development of Palace's current third choice goalkeeper.
It is often a controversial time when players are released, but Palace will be keen to trim their squad, with a number of players also having spent the campaign out on loan.
The overhaul will help pave the way for new signings to represent the quality of the Premier League and the new era that Palace find themselves in.
It speaks volumes that players who were regular starters in the Championship have been let go by the club now that a second season in the Premier League has been secured, and with significantly more funds available it will be exciting to see the new men brought in by Pulis.
High on the priority list will surely be another striker to ease the workload on Glenn Murray and Dwight Gayle, while cover at centre-back will be needed and more competition for Bolasie and Puncheon on the wings.
With plenty of movement in the transfer window, there will inevitably be speculation galore, but that is all part of the fun of being a football supporter.
Although Bolasie has been linked with Liverpool, there has been little reported interest in Palace's star players, and let us hope that it remains that way.
Comments are closed on this article.