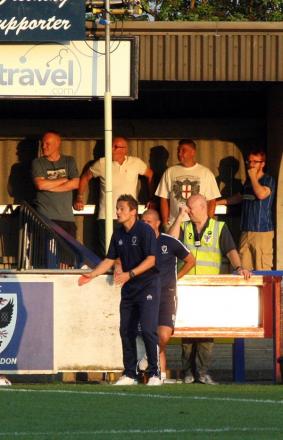 Sort it out: Neal Ardley starts to lose his rag in the 2-1 win over Sutton United on Tuesday night
While Neal Ardley was left generally pleased with the 2-1 win over Sutton United on Tuesday night, he still has reasons to be knock his Dons players down a peg or two.
The United equaliser on the night came from a mistake in the Dons midfield, something Ardley says he could see coming and something he tried in vain to stop.
Fans behind the Dons dug-out could have failed to notice Ardley's frustrated gesticulations towards the end of the first half.
And his biggest problem was that, having dominated the opening exchanges, his players had fallen into the trap of thinking they were better than they were.
"Every time we're at our worst was when players thought they were 'players' and were strutting about," Ardley said.
"We'd been on top for 25 minutes, should have had more than one goal and playing very well, getting at them, being dynamic and penetrating.
"Then we thought we were 'players' – we started taking too many touches in midfield, making nonsense passes in defence and stopped doing everything that had got us on top in the first place."
He added: "I was shouting at them to get the ball forward, hit Bayo. Then we lose the ball in midfield after a needless pass and they go on and score.
"I had told them four times before the goal that they were making too many passes, and when they don't take it on and concede a goal and you have to tell them 'You're not listening'.
"That's annoying – we were doing everything right, then we took our foot off the gas because things were going well, that's why I was getting irate."
Comments are closed on this article.